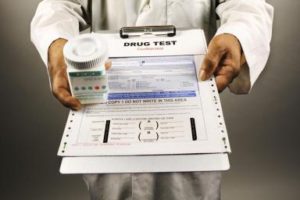 AccuSearch offers urine drug tests. Urine Drug Screening is the most common type of employee drug screening, primarily because urine drug screens are reliable, inexpensive, non-intrusive and convenient. Your employees and job applicants may visit our Phoenix office or any of nearly 2000 collection sites nationwide. Test results are typically available within 1 to 48 hours and are confidentially communicated to persons you authorize, by the means you specify.
Five-Panel Drug Tests
The most common urine drug test is a 5-Panel Drug Test, or "SAMHSA1-5", that screens for 5 categories of drugs:
Marijuana (THC)
Cocaine
Amphetamines/Methamphetamines
Opiates2
Phencyclidine (PCP)
1 SAMHSA, the Substance Abuse and Mental Health Services Administration, sets guidelines for federal government Drug Screening programs.
2 codeine, morphine, hydrocodone (e.g., Vicodin), hydromorphone (e.g., Dilaudid), oxycodone (e.g., Percodan) and oxymorphone (e.g., Numorphan)
Ten-Panel Drug Tests
AccuSearch also offers a 10-Panel Drug Test that checks for the 5 drugs listed above, plus the following:
Barbiturates
Benzodiazepines
Methaqualone
Methadone
Propoxyphene
Ecstasy Drug Tests
Given increasing popularity of the hallucinogen Ecstasy (MDMA), AccuSearch offers an Ecstasy Drug Screen that can be added to either a 5-panel or a 10-panel drug test.
D.O.T. Drug Tests
DOT Drug Tests screen for the same 5 drugs as does the SAMHSA-5. The Department of Transportation requires DOT Drug Screening of safety-sensitive employees in transportation industries. A DOT drug test involves the use of a special "chain of custody" form, a split sample test, and a review of the Drug Screening process and laboratory results by a Medical Review Officer (MRO). The MRO is a licensed physician who is qualified to determine if there is a legitimate medical explanation for a particular test result.
Drug Screening for Healthcare Professionals
Because of the high potential for drug abuse by healthcare workers, AccuSearch offers comprehensive testing of healthcare professionals for drugs that are readily accessible to them. Our Healthcare Professional Profile screens for all the drugs covered by the 10-Panel test except for methaqualone, plus three additional analgesic narcotics that are widely available in medical settings.
Marijuana (THC)
Opiates
Benzodiazepines
Fentanyl
Cocaine
Phencyclidine (PCP)
Methadone
Meperidine
Amphetamines/Methamphetamines
Barbiturates
Propoxyphene
Tramadol
Other Drug Screening Services
In addition, AccuSearch provides the following drug screening services in Maricopa County, Arizona:
Urine-based alcohol testing
On-site Drug Screening for five or more employees or students
Administration and execution of random drug screening programs
Rapid drug screening at our Phoenix, Arizona office weekdays from 9 to 4 (no appointment necessary)